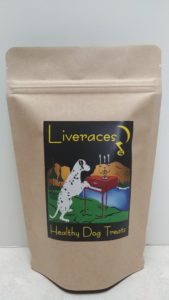 Liveraces
The Liveraces named after "liberace" because our dog Henry is seen on the label playing a grande piano with a candleabra in the Columbia Gorge. Plus the treats are made with chicken livers. Thus we have Liveraces.
The livers come from a farm in Newberg, Oregon whose goal is to raise the chickens where they spend their days outside in a grassy pasture being chickens. We are very picky about where the livers come from and how the chickens are treated, raised and processed. It is very important to us to support only humane methods of raising these wonderful animals and we will continue to know exactly where our ingredients come from and support local farmers.
This happens to be the only treat we make that contains gluten. This is because of the dark rye flour. This flour is organic, from Bob's Red Mil and is a non GMO grain – meaning it has not been genetically modified like wheat, soy or corn. However, if your dog has a gluten sensitivity you may want to choose one of our other treats.
We also use brown rice flour in this recipe. The Liverace is also the only one of our treats to contain an animal protein.
What's in it?
Brown rice flour (organic)
Dark rye flour (organic)
Chicken livers from free range chickens and Filtered water
 
Hairy Porters
Our Hairy Porters are made from organic sweet potatoes which are high in fiber, beta carotene, cyanidins, and the highest concentration of vitamin A of any plant.
Garbanzo bean flour from Bob's Red Mill is used for the main protein here. Garbanzo beans, also called chickpeas are loaded with folate and fiber. There are 15 grams of protein in one cup of garbanzo beans. Because they are legumes they are gluten free.
Brown rice flour, just like garbanzo bean flour, is just brown rice which is ground into a powder. It is gluten free and retains it's high protein shell giving it fiber to lower it's glycemic index. This shell is also full of B-vitamins and protein.
What's in it?
Brown rice flour (organic)
Garbanzo bean flour
Sweet potatoes
Filtered water

Peanut Emma M's (grain free)
In our Plain and Peanut Emma M's we use Buckwheat flour which comes from the seed of a broadleaf plant related to rhubarb. It is higher in protein than rice, corn or wheat and contains high amounts of the amino acids arginine and lysine which most grains are deficient in.
The peanuts we use are freshly ground. We do not use peanut butter which contains sugar and is higher in fat. The oils in peanut butter can also be rancid if exposed to light for long periods of time, for example, on a shelf in a grocery store. When the peanut is intact the oils remain fresh.
What's in it?
Buckwheat Flour (organic)
Garbanzo bean flour
Fresh ground peanuts
Filtered water

Beetniks
The Beetniks are a colorful treat made with the same flours as the Hairy Porters. The deep red color comes from the organic beets we juice ourselves. Beets are known for their exceptional blood building and cleansing properties.
When we juice the beets there is ground pulp left behind in the process. We add this pulp to the treats for the fiber, thus the entire beet root is used in these gluten free treats.
What's in it?
Brown rice flour (organic)
Garbanzo bean flour ( Non GMO )
Beet juice (organic)
Beet pulp (organic)

Mutt Munch
All of our wonderful treats in one bag!!  If your pup loves them all,  this bag covers it. It comes in half pound or 1 pound options.
Beet photo on homepage photo credit: Muffet via Compfight cc